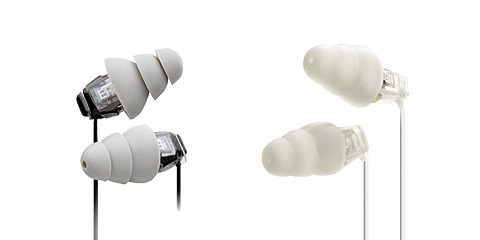 "What? Say that again please?" This is what I am sometimes forced to say, much to the dismay of whoever I am talking to, because I have a slight hearing loss from doing too many shows and rehearsals without protecting my ears. I have a constant, low volume, high-pitched ringing in my ears which actually gets louder if I am tired. In addition to the lovely ringing, I am sometimes unable to clearly differentiate T's and D's when listening to someone in a crowded environment. It's not fun, for me, or anyone I talk to.
If you think you may have some hearing loss from prolonged exposure to loud music, it's a good idea to get a hearing test from an audiologist. Another thing you may want to look into are in-ear monitors or professional musician ear plugs. I use the Etymotic ER-25 for gigs. They are earplugs that cut dB instead of muffling the sound like foam earplugs do.
If you use an iPod, ditch those Apple ear buds and check out the Etymotic ER-6i, which are in-ear buds that cut out nearly 30dB of external noise, so you can listen to music clearly, at a lower volume. Any of the Shure in-ears work well too. Then there are the high-end Sensaphonics, which can be custom moulded to your ears. In-ears in general take a bit of getting used to, but they sound amazing without killing your ears.